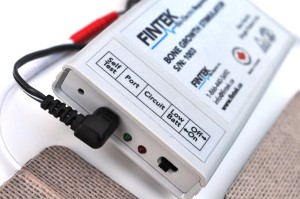 July 7, 2014, Burlington, Ontario – Fintek Bio-Electric Inc. is proud to announce, in accordance with the Health Canada Medical Device Regulations, Section 36, the Medical Device License approval of the Bio-Electric Response, Bone Growth Stimulator, Medical Device License Number 93470. This innovative and efficacious Canadian made Bone Growth Stimulator will be on the market for sale to patients of prescribing surgeons, quality distributors and sport medicine professionals in July 2014.
Mike Finn, President of Fintek Bio-Electric Inc., and developer of the Bio-Electric Response.  "If you are an orthopaedic surgeon or neurosurgeon looking for a leading-edge bone growth stimulation product for the purpose of healing problematic fractures and fusions,  our high quality product and dedication to providing excellence in customer service will give you and your patients a positive result and experience. Capacitive coupling has been clinically proven to be the most effective method of signal transduction, and our device can be used on any physical site including spine applications."
Peter Finn, Marketing and Sales Manager, Fintek Bio-Electric.  "Our goal is to launch a Canada wide marketing campaign to promote the use of the Bio-Electric Response for the purpose of fracture and fusion healing.  It is an exciting opportunity to discuss this effective option with Orthopaedic surgeons and their fracture patients who may have additional health conditions or risk factors that may inhibit healing.   Orthopaedic surgeons should expect to see our team soon to discuss how we can help them in effectively healing their patients who would have difficulty healing normally."
About Fintek Bio-Electric Inc.
Fintek Bio-Electric Inc. was created in 2013.  The Fintek team has been in Orthopaedic distribution and sales for over ten years in Bone Growth Stimulation Sales and Adult Trauma and Paediatric Deformity Correction.   For more information on the Bio-Electric Response email info@fintek.ca